This is a very simple dish to prepare, especially if you have access to Asian grocery nearby, where you can buy pre-sliced beef. Unfortunately I don't live that close to any Asian market, and my local butcher can't slice the beef thin enough for me. So, to make this dish, I have to slice the meat myself. To make to job easier, normally I put a piece of sirloin steak in the freezer for a couple hours, until it's half frozen. This way I can slice them thin enough without much struggle.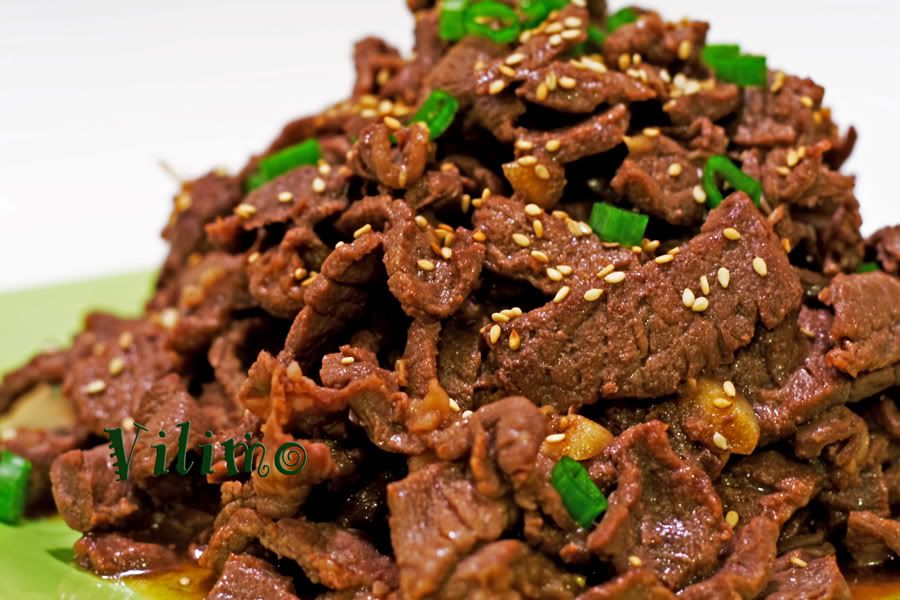 Ingredients:

1 1/2 lb sirloin steak, thinly sliced

Marinade:
3 tbs shoyu
3 tbs mirin
1/2 tsp ginger powder (fresh ginger if you like it)
3 cloves garlic, minced
3 tbs brown sugar
1/2 tbs sesame oil

oil for cooking (around 1-2 tbs)
toasted sesame seeds for sprinkle
sliced green onion (optional)for garnish


Directions:

1. Mix all the ingredients for marinade in a big bowl.
2. Toss in sliced beef to the bowl, mix well, leave to marinade for at least 1/2 hours in the fridge.
3. Heat cooking oil in a pan, drain the beef, and cook until beef change color.
4. Pour the excess marinade to the pan, and cook until boiling, remove from heat.
5. Sprinkle sesame seeds over the beef & garnish with sliced green onion.