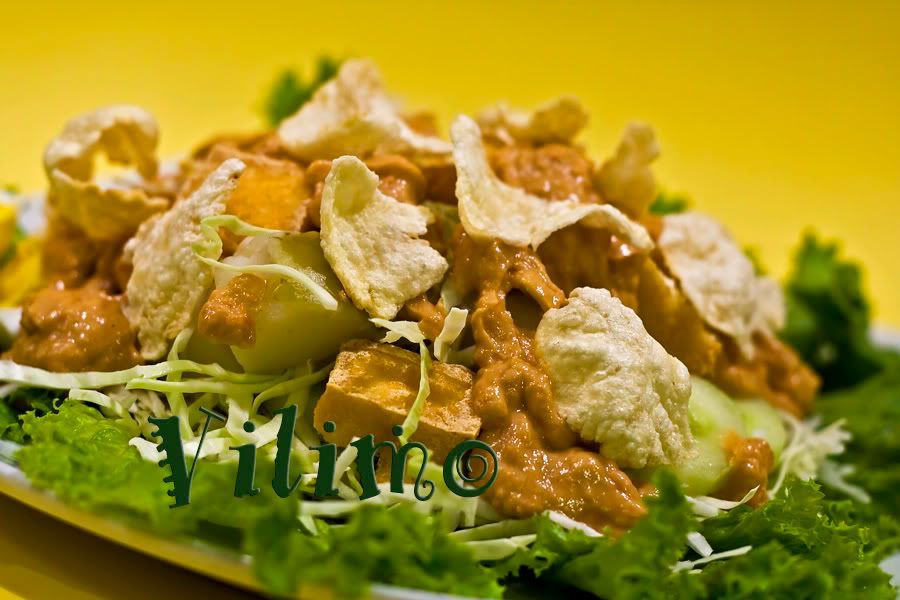 Gado-gado (mixed vegetables salad with peanut sauce dressing) always make a good, refreshing, not to mention easy, summer meal. This wedding salad, though look almost alike like regular gado-gado, it tastes slightly different. As regular gado-gado, this one use peanut based dressing too. The different is this one contains dried shrimp and vinegar that gives a nice tangy taste to the sauce.
I have no idea as how this salad is called wedding salad, probably because it's often served at the wedding.

Ingredients:

200 gr potato, boiled
200 gr cabbage
200 gr cucumber
200 gr green leaf lettuce
100 gr bean sprout, tails removed
3 hard boiled eggs
2 pcs firm tofu, deep fried
1 fried shallot
emping (melinjo crackers)

Sauce:
1 cup peanut butter (I use chunky pb)
50 gr dried shrimp, soaked in boiling water for about 15 minutes, drained
1 tbs sambal oelek
1 tsp salt
2 tbs sugar
300 ml water
1-2 tbs vinegar
3 tbs sweet soy sauce

Directions:
1. Slice boiled potatoes, cabbage, cucumber and deep fried tofu. thorn lettuce leaf.
Scald beansprout for about 10 seconds in boiling water, drain immediately

2. for the sauce:
With medium head, dry fry dried shrimp in a small wok, stir often, for about 10 minutes. Remove wok from the heat, cool the dried shrimp and put it in blender and process until it resembles fine meals.

3. Mix dried shrimp with peanut butter, sambal oelek, salt, sugar, water, vinegar and sweet soy sauce.

3. Arrange potatoes, cabbage, cucumber, lettuce, bean sprout, tofu and boiled eggs on a plate. Pour over the peanut sauce. Sprinkle with fried shallot and emping.